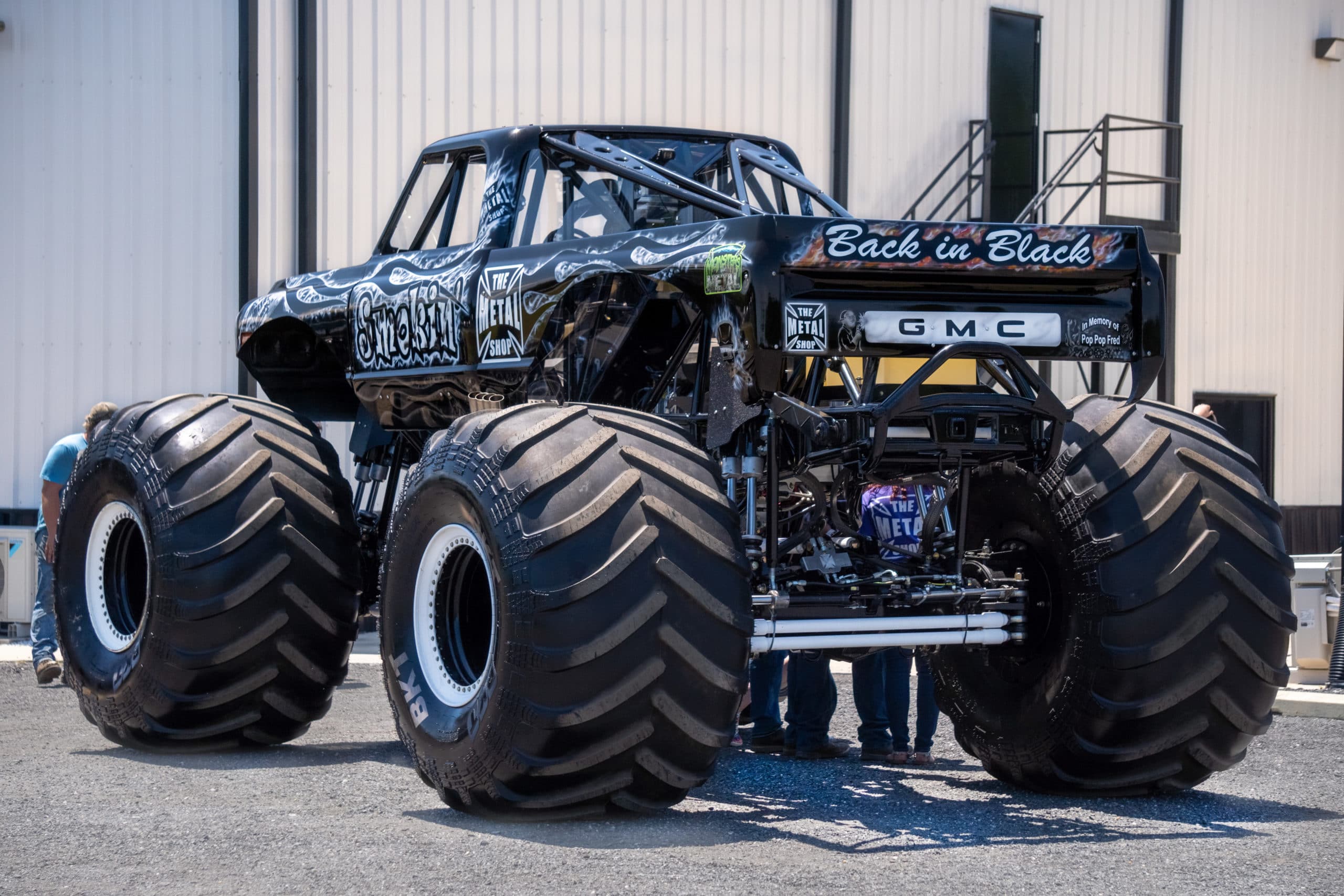 Saigon Shaker is a custom Jeep Kaiser M715 monster truck created and owned by Rick Disharoon (original owner & creator of Backdraft) and Ryan Disharoon (driver). Originally based on Disharoon's original mud truck, the truck has evolved into a staple at multiple monster truck events.
12,600 lbs.  

19ft long 9'6 tall 10ft wide 

1969 GMC pick-up body 

TMS Gen IV Chassis 

557 cu in Blown BBC  

1600 HP 

PEI housing  

F106 third members 

CRD Clark Planetaries (rears) 

SCS transfer case, 

ATI power glide transmission, 

TMS custom bead lock wheels 

PEI double bypass nitrogen shock  

30" travel rear  

26" travel front 

BKT tires 66" x 43" x 25"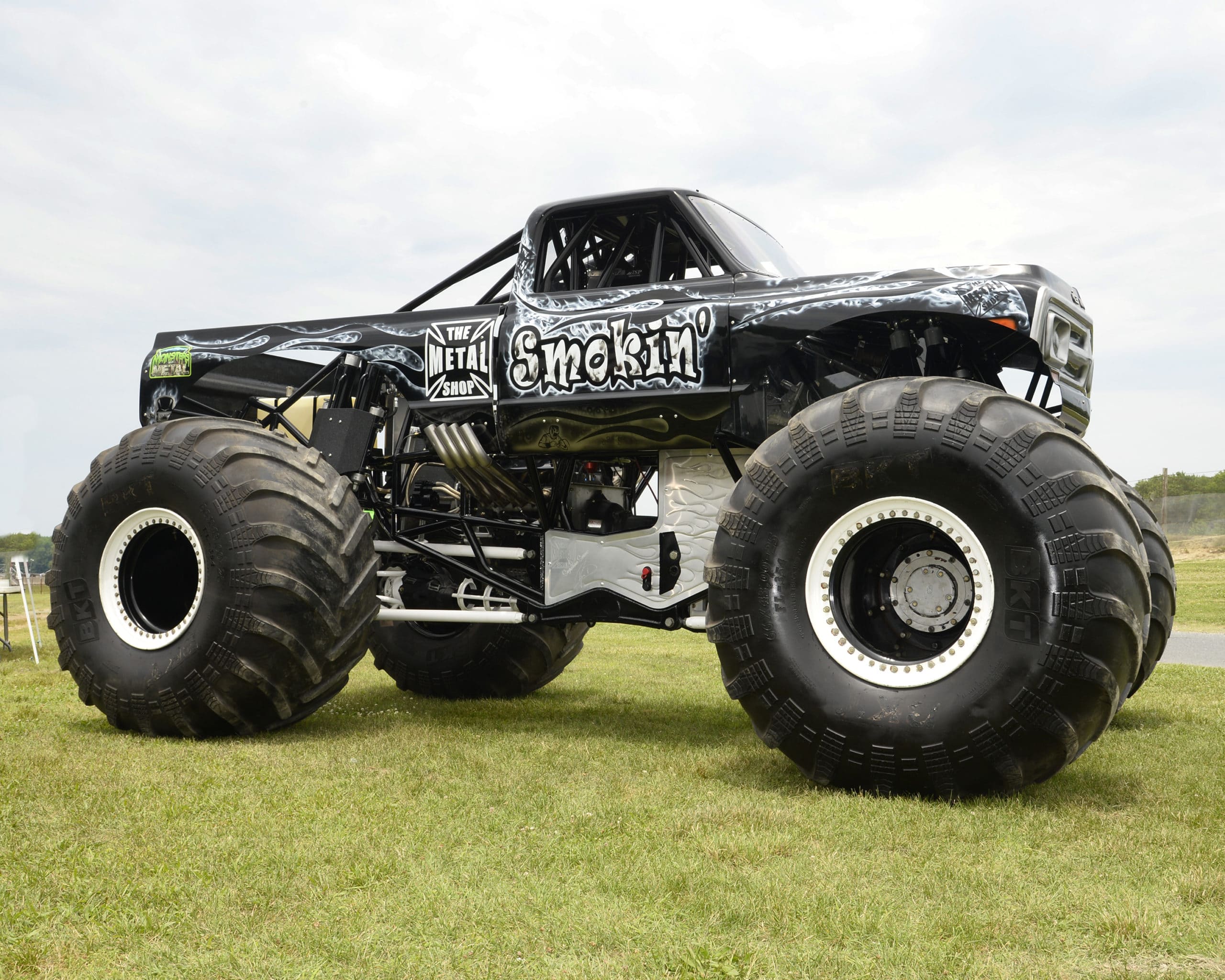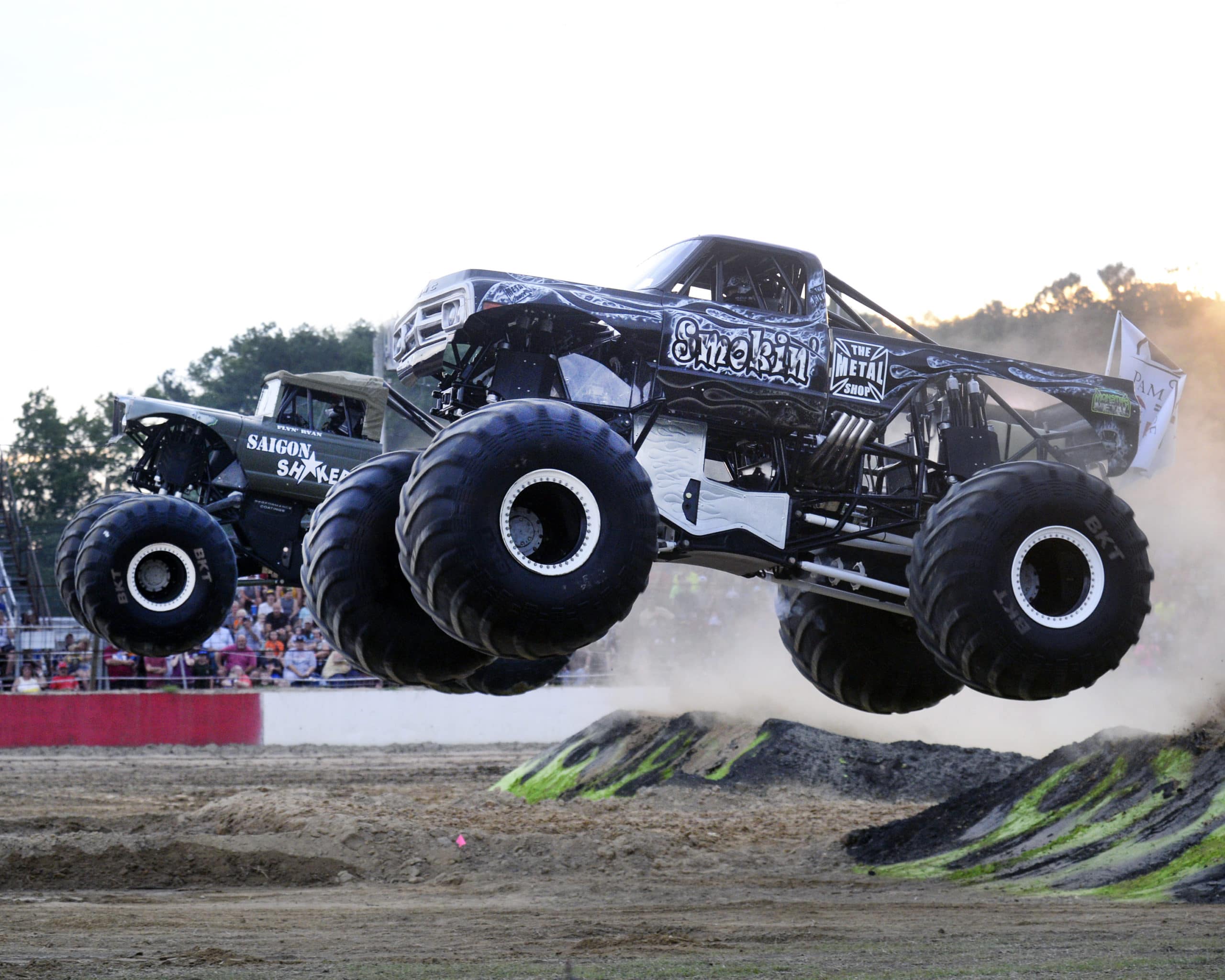 It is impossible to talk about Smokin' without talking about Rick Disharoon. Smokin' was created as a result of Rick's desire to re-enter the sport as a driver. Rick was the originator and driver of the Backdraft monster truck. Once he stepped away from the sport as a driver in 2005, he would return as the Crew Chief for his son, Ryan, as he began his own monster truck career. After 10 years serving as Ryan's right-hand man, he decided it was time to get back in the seat. Rick wanted an identity that alluded to his past as the driver of Backdraft.   
The name Smokin' stuck out to Rick. The idea that "smoke comes after the fire" and if "something is still smoking, it must still be hot", that really appealed to him. It is exactly what Rick wanted to convey with this truck's identity:  he hadn't let 15 years away from behind the wheel take away his fire. At 55 years old, he is as passionate about the sport as he ever was and was ready to show the world that he's still got what it takes to be considered one of the greats. He debuted the truck at the Monsters of Metal Father's Day show, racing against his son, Ryan, in Delmar, DE in June of 2021. 
The body is a 69 GMC with a Gen IV chassis. He chose a color scheme of black and white to create an association between truck's image with the branding of his successful business. Anyone who knows Rick knows that he is The Metal Shop; he has put his heart and soul into his business. This undeniable link between himself and his business was essential to the truck's image. Each fiberglass body is airbrushed free hand by the talented Trey Myers. A fun fact about the design is Trey hides imagery in the flames that represent his wife, Sherry, son, Ryan, and daughter, Jaclyn, on each paint job. The family always enjoys trying to spot their symbol with each body's delivery. 
Thanks to The Metal Shop's innovations and custom fabrication, the Saigon Shaker has evolved into a top-performing professional monster truck. The Metal Shop's chassis department creates the most advanced monster trucks to date. As a result, Saigon Shaker now holds stadium and event championship wins. As Saigon's fan base grows, it continues to fuel Rick and Ryan to create the best monster trucks in the sport.